Host
Ted Allen
Broadcast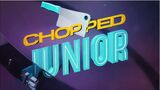 Food Network: 10/27/2015-present
Packager
Notional
Chopped Junior is a kid-friendly spinoff of Chopped that pits four adolescent chefs (aged 9 to 15) against each other as they competed for a chance to win $10,000 in cash.
Premise
[
]
Like its predecessor, four adolescent chefs compete, however these contestants are between the ages of 9 and 15. Their challenge is to take a mystery of basket of ingredients and turn them into a dish that is judge on creativity, presentation and taste. In each round, the chefs are given a basket containing between three to five ingredients, and the dish each competitor prepares must use each ingredient in some way and although forgetting an ingredient isn't an automatic disqualification, the judges will take it into consideration. The ingredients are often not commonly prepared together. The competitors are given access to pantry and refrigerator stocked with a wide variety of other ingredients.
Unlike the original adult version, the younger competitors are given thirty minutes for the Appetizer round while the Entrée and Desert rounds are still the same at thirty minutes.
The dishes prepared by the competitors are critiqued by a panel of judges, the dishes scored based on presentation, taste and creativity. The judges then decide which young chef is "chopped" and is eliminated from the competition.
See Also
[
]
Chopped
Chopped Sweets
Chopped 420
Chopped: Next Gen
Link
[
]