Host
Patrick Van Horn
Broadcast (KRON)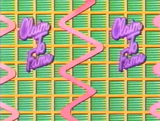 Weekly: 4/4/1987 - 9/3/1988
Daily: 2/27/1989 - 3/24/1989 (may have been repeats)
"And here's your host, Patrick Van Horn!"
Claim to Fame was a panel game show for the California Bay Area.
A contestant who has a claim to fame is called from the audience. The panel is given the player's first name, hometown, and a clue, then asks four questions to try to determine what the player's claim to fame is. After the fourth question, the panel has 20 seconds to talk among each other, after which the leftmost panelist gives a guess. A correct guess ends the game, but an incorrect one lights up a letter in "FAME" and awards the player $50.
A second clue is then given, with the panel asking two questions followed by a 20-second conference. It is not currently known how the game was handled past this point, aside from giving a third and final clue. If the panel completely failed to guess the claim to fame, the contestant got $200 and 50 lottery tickets.
Three games were played per show, with the last one involving a celebrity guest.
"I never gotten pictured in the paper.
(Angry Ticket Guy: HEY!!!!)
Hardly anybody knew my name.
Then some guy from Channel 4 (Patrick Van Horn wink),
Put me on a TV game.
Now, everybody knows my claim to fame.
My claim to fame.
My claim to fame.
Everybody knows my claim to fame."
In the earliest episodes, the set resembled that of the original I've Got a Secret: two desks facing each other and a logo sign in the middle, all primarily in black and white. The celebrity desk (which was to the viewers' right) had no light-up letters, while the contestant desk was also where Patrick sat. A much more colorful set and logo were in place by the end of October 1987.
Regular panelist Wayne Shannon left KRON on July 4 due to his contract expiring, which also resulted in his departure from Claim to Fame.
The show aired Saturday nights at 6:30 PM throughout 1987 and 1988. The 1989 airings were at 12:30 PM.
Clip of a celebrity game from an early 1987 episode (Sylvia Brown?, Charlie Haas, Ann Jones, Wayne Shannon; guest is Charlotte Meyer)
A promo from October 30, 1987
Two promos
A promo from March 11, 1988
Full opening segment of an episode (Wayne Shannon, Ann Jones, Charlie Haas, Ruby Petersen; contestant is Dave Warren)
Full segment of another episode (Wayne Shannon, Ann Jones, Charlie Haas, Ruby Petersen; contestant is Butch Voris)
Community content is available under
CC-BY-SA
unless otherwise noted.