Host
A.J. Benza
Broadcast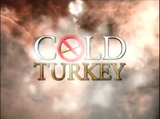 PAX: 10/3/2004-6/21/2005
Packagers
NBC Productions
National Broadcasting Company (NBC)
Visual Frontier Inc.
Cold Turkey (II) was a short-lived reality competition series where ten unsuspecting smokers to quit the habit in front of television viewers across the country.
Premise
[
]
Bamboozled into thinking they were going to join the cast of an outrageous reality show, ten unsuspecting chain smokers discover that the real task at hand is to quit smoking "Cold Turkey" while sequestered in a house for over three weeks.
Links
[
]