Host
Geoffrey Zakarian
Rotating Panel of Judges
Kardea Brown
Josh Elkin
Graham Elliot
Daphne Oz
Broadcast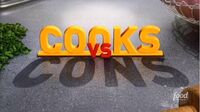 Food Network: 3/17/2016-9/20/2017
Packager
Cakehouse Media
Cooks vs. Cons is a reality cooking competition series that premiered on the Food Network on March 17th (St. Patrick's Day) of 2016. It calls the elite cooking skills, agility and adaptability, all simmered with a dash of mystery as a combination of professional and amateur chefs, whose true identities are concealed, battle it out.
Premise
[
]
The host of the show is Geoffrey Zakarian, a frequent judge on Chopped and Chopped Junior (both of which are also on the Food Network) and each episode has two judges. Like on Chopped, each episode has four contestants--two professional chefs (the titular "cooks") and two very talented amateur chefs (the titular "cons"). But none of the judges and not even Geoffrey knows who/which of the contestants are cooks or cons, but can make guesses based on the moves and mistakes the contestants make while they're cooking.
Each episode has two rounds--in the first round, Geoffrey tells them what to make and gives them a special ingredient that they have to use in some way for their dish, but in the second round, they can make whatever they want but still have to use a special ingredient that Geoffrey gives them. In both rounds, contestants have 30 minutes to cook their dishes. Once the first round is done, the judges reveal their first and second favorite dishes, and then reveal which of the two remaining contestants is safe to go on to the second round. After the first contestant is eliminated, they're asked to reveal if they're a cook or a con--if they're a cook, then there's two amateurs and one chef in the second round; but if they're a con, then there's two chefs and one amateur in the second round.
For the first season, after the second round is done but before the winner is revealed, Geoffrey and the judges ask the three remaining contestants if they're cooks or cons--if the winner turned out to be a cook, they got $10,000, but if the winner turned out to be a con, they got $15,000. In the second season, the prize money is $10,000 regardless of whether the winner is a cook or a con.
Winners
[
]
Season 1
[
]
1.) Burger Battle ~ Mark (Cook)
2.) Mac 'n' Cheese Meltdown ~ Miranti (Con)
3.) Taco Takedown ~ Chef Brian adams- las vegas
4.) Cookie Crumble ~ Cindy (Con)
5.) Candy Clash ~ Bruno (Cook)
6.) Meatball Mayhem ~ Chef Charlie Loomis - Chattanooga, TN
Season 2
[
]
Wingin it winner Andrew cook
Rating
[
]

Link
[
]