Host
Terrence J. Jenkins
Broadcast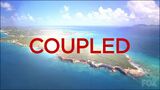 FOX: 5/17/2016-8/2/2016
Packagers
Grandma's House Entertainment
MGM Television
Coupled is a reality dating series where it follows twelve single, smart and young professional women looking for love, who will meet face-to-face with eligible single men against the beautiful backdrop of the Caribbean Islands.
Premise
[
]
The women have the first choice as they instantly decide if they feel a spark of chemistry and want to spend more time with each guy or if they don't feel a connection and want to wait for the next one. The real soap opera unfolds as new couples are formed and have to discover whether or not they have the compatibility to make their relationship last. In addition, the series will also feature the one thing that all modern romances have in common - texting. Both the women and men are armed with cell phones throughout the series by giving the audience a front row seat to the real drama, as their text conversations pop up on screen.
Trivia
[
]
This is the first reality dating series created and Executive Produced by Mark Burnett.
This is Terrence J. Jenkins first hosted reality show, his 2nd is The Dunk King on TNT in the same year.
Link
[
]