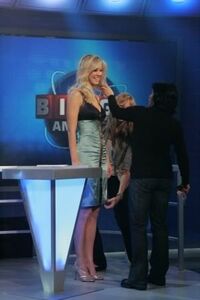 Crystal Wallasch was a former co-host/ball girl opposite Patrick Duffy on the first season of Game Show Network's Bingo America on March 31, 2008 before she was replaced by Diane Mizota in season two of the show on October 6, 2008.
Early Career
[
]
As a professional dancer and actress, Wallasch has appeared in numerous shows including KROQ's Acoustic Christmas, American Dreams, House of Pop, The O.C., Dr. Vegas and Dr. Phil. In addition, to co-hosting Bingo America, Wallasch can be seen performing with her dance squad for a professional NBA basketball team in Los Angeles, California.
Career
[
]
Wallasch began her dance training at the age of 7, learning many styles of dance including: ballet, jazz, tap and hip-hop. In 2000, she was accepted into the prestigious LA County High School for the Arts, continuing her dance studies under such legends such as master jazz and tap percussionist Ardie Bryant. While there, Wallasch performed in a variety of shows including Firebird, Tales of Hoffman, Orphans in the Underworld and The Rite of Spring at the Dorothy Chandler Pavilion.
Trivia
[
]
In June 2006, Wallasch earned her Bachelor of Arts from the University of California, Irvine. Always adventurous, Wallasch has walked The Great Wall of China and climbed California's Mounty Whitney, the highest point in the contiguous United States.
Wallasch's hobbies include: downhill skiing, scuba diving and water-sports.
Among her life-long ambitions, Wallasch plans to visit the great pyramids in Egypt.