Hosts
Daisy de la Hoya (Bachelorette)
Riki Rachtman (Co-Host)
Broadcast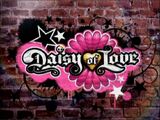 VH1: 4/26/2009 – 7/26/2009
Packager
51 Minds Entertainment
Daisy of Love was a short-lived reality dating show which stars Daisy de la Hoya as she gathers twenty alpha males at her Hollywood Hills mansion to find true love.
Premise
[
]
By popular demand, Daisy de la Hoya is back and this time staring in her own show. In this series eighteen hot, rockin' dudes are their for her to choose from as these guys are from all walks of life: garage and members, meatheads and even blonde-haired Swedish triplets that looked like they just walked out of an 80's music video. Daisy will allow them all to move into a Hollywood Mansion and fight for her love. She will carefully weed them out one by one and hopefully find the man ready to be her new Rock Star boyfriend. Do they love her or love her not?
Trivia
[
]
Daisy was originally a contestant and runner up on Rock of Love 2.
Daisy is the niece of famed boxer Oscar de la Hoya.
'84, '85 and '86 appeared in the 2009 music video Paparazzi by Lady Gaga.
Big Rig and Marcia from VH1's Rock of Love Bus and Charm School with Ricki Lake dated for a brief time, but are now separated.
VH1 has officially confirmed that both Daisy and London are no longer together. Daisy has posted in her MySpace blog about it.
Professor (Brandon), Weasel (Pauly), Fox (Daniel), Big Rig (Jeremiah) and Sinister (Derrick) were all contestants on the cancelled third season of the former VH1 reality show I Love Money.
6 Gauge (Chris), Brooklyn (Christopher) and Chi-Chi (Branden) appeared in the fourth (and final) season of the VH1 reality show I Love Money.
Big Rig (Jeremiah) appeared as a contestant on the revival of WWE's Tough Enough, however, he placed 3rd overall in the competition.
Link
[
]