Host
Pierre Bouvier
Broadcast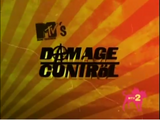 MTV: 3/6/2005-4/24/2005
Packagers
Celador Productions
Tiger Aspect Productions
Damage Control (not to be confused with the Marvel comic book series of the same name) was a short-lived hidden camera show in which a teenager is left home alone while his or her folks leave for the weekend. Unbeknownst to him or her, they camp out nerby; and win money every time they correctly predict how he or she will react to a given (and often outlandish) situation.
Premise
[
]
Each episode begins with their parents telling their teenager son or daughter that they're going away for the weekend. What the son or daughter doesn't know is that their parents actually hide out with Bouvier just a short distance from their home. Using secret cameras and an insider friend of the teenager, the parents and Bouvier watch the teen's every move. Parents can win money by correctly predicting the next action their child will take.
At the end of the weekend, the parents return home as promised. The teen can then win money by confessing to their parents about the events that took place. Eventually, Bouvier appears on the set to defuse the situation. He reveals what actually happened "to do some damage control" as he says.
Trivia
[
]
The show was once called "the Risky Business of reality television".
A nearly identical series Animal House (not to be confused with the classic 1978 National Lampoon comedy film of the same name) aired on British a year earlier in 2004.
Host Pierre Bouvier is a member of the rock band Simple Plan.
it's theme song was "Still Not Getting Any" which was performed by Simple Plan.
The show had a two eight-episode seasons filming before any episodes were aired.
The show aired on MTV Sunday nights alongside Punk'd, Pimp My Ride, and Viva La Bam. Collectively, the four shows were formerly known as the Sunday Stew.
Link
[
]