Hosts
Kel Mitchell, Alfonso Ribeiro, & Fredro Starr
DJ on the "Wheels of Steel"
DJ K-Sly (Kathleen Taylor)
Broadcast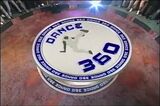 Syndicated (Daily, UPN affiliates only): 8/30/2004 – 5/2005 (reruns aired until 9/9/2005)
Packagers
C to the B Productions
Paramount Domestic Television
Dance 360 was a modern-day short-lived hip-hop dance competition show in which different dancers competed to win $360 in cash and an Xbox video game system or other prizes like a cell phone from Boost Mobile.
Format
[
]
The six dancers were selected from the audience at the beginning of the show, as they competed one-on-one, with the winner going on to the next round. They were judged by the level of audience applause. In addition to the prizes awarded, the winner was also given the last few seconds of the show to give "shout outs" to their friends and family.
Battle 1: Tag Ya Man*!
[
]
After Kel explained the battle, he would point to one of the dancers to start after K-sly played a beat, and another person would come to the dance floor and dance too; thus the two people were going head-to-head for a face-to-face dance battle. The three people were then voted to go to the Second Battle.
Battle 2: Master the Move
[
]
In this battle, the hosts, including a special guest from a radio station, would pick three people from the audience for each dancer to dance only one move and two people would be voted and advance to the final battle of the show. In case of a tie, two people had to go head-to-head.
Final Battle
[
]
The two dancers would dance solo in two rounds in two different beats and goes head-to-head. At the end, the audience decided the winner, "The Top Dog of the 360" by looking at videotapes of the dancers.
Catchphrases
[
]
"Yo Fredro/Kel/Alfonso, Where You At (Man)?"
"Three Six Oooh!"
"Tag Your Man!"
"Head To Head!"
Set Pic
[
]
Trivia
[
]
The show's title comes from the circle on the dance floor where the dancers competed.
Kel Mitchell previously starred in Nickelodeon shows All That and Kenan & Kel. He later starred in Game Shakers his character on the show was named Double G, which debuted in 2015 and ended in 2019 after four seasons.
Fredro Starr previously played Moesha's boyfriend Quinton "Q" Brooks on the hit UPN sitcom Moesha.
DJ K-Sly (real name Kathleen Taylor) is a Los Angeles based DJ more known as a radio host.
Links
[
]