Host
DJ Rick (Rick Adams)
Judges
Tricia Gomez
Michael Copon
Ashley Drane-Eckstein
Steven Anthony Lawrence
Sara Paxton
Alyson Stoner
Broadcast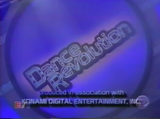 CBS (Saturday Morning): 9/16/2006 – 3/10/2007 (reruns aired until 9/9/2007)
Packagers
Brookwell-McNamara Entertainment
DIC Enterprises
Dance Revolution was a short-lived Saturday morning dance competition series loosely based on the popular arcade video game Dance, Dance, Revolution. It features teams of young dancers between the ages of 11-17 who showcase their original moves, competing for the grand prize of a $25,000 scholarship.
Every half-hour episode began with music from the house band, the Slumber Party Girls. Then DJ Rick introduced the "Dance Crews" (the teams of contestants) and the judges. The Dance Crews started to perform their own dance routines. When they were finished, choreographer Leah Lynette would come to teach the Dance Crews some new styles of dancing. Finally, the Dance Crews would have a dance off. The judges would declare who the winning Dance Crew was and the winners advanced to the next round.
Raleigh Studios, Hollywood, CA

The show was originally titled as Dance, Dance, Dance!.
Alyson Stoner is more well known for providing the voice of Isabella Garcia-Shapiro in Phineas and Ferb.
Steven Anthony Lawrence is best known as Beans from Disney Channel's Even Stevens.
Official Website (via Internet Archives) (1)
Official Website (via Internet Archives) (2)
Community content is available under
CC-BY-SA
unless otherwise noted.