Hosts
Jason Earles & Tiffany Thornton
Broadcast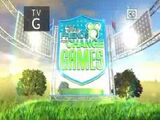 Disney Channel: 6/24/2011 - 7/31/2011
Packagers
Disney Channel Originals
Distributor
Disney/ABC Television
Disney's Friends for Change Games was a short lived spinoff of the game show Disney Channel Games. It is featured in the same Olympic like setting but there are some several changes to the game unlike Disney Channel games.
Similar Gameplay
[
]
The gameplay is similar where teams compete in Olympic like games. Celebrities from different Disney Channel shows also compete in the games.
Differences in Gameplay
[
]
Unlike the Disney Channel Games, there were changes to the Friends for Change Games, and here is a list of the changes:
There are now 4 teams: red, blue, yellow, & green
Each team is playing for a certain charity
Each team gets $125,000 for their charity, but the winning team receives $200,000 for their charity.
No cheerleaders were in each team to cheer them on
There were only 3 musical guests for the closing performance: Allstar Weekend, The Jonas Bros., and Selena Gomez. The closing performance was titled "Concert for Hope".
The uniforms were slightly different from the ones seen on DC Games.
Countries that represented the games
[
]
Here is a list of countries represented in the games:
Argentina
Brazil
France
Italy
Mexico
Spain
United Kingdom
United States