Host
Edgar Bergen (with Charlie McCarthy, Mortimer Snerd, and Effie Klinker)
Announcers
Ed Reimers
Bob Lamond
Broadcast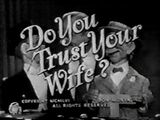 CBS Primetime: 1/3/1956 – 3/26/1957
Packager
Don Fedderson Productions
"Tonight, we'll find out whether (insert husband name) will trust his wife (insert wife name) and win (insert cash amount)! DO YOU TRUST YOUR WIFE? Brought to you by (insert sponsor)! And now Ladies and Gentlemen, here's the star of our show, EDGAR BERGEN WITH CHARLIE MCCARTHY!
On Do You Trust Your Wife?, married couples were chosen for their unusual backgrounds and interviewed by ventriloquist Edgar Bergen along with Charlie McCarthy the ventriloquist puppet.
Gameplay
[
]
Married couples competed on this show, they were chosen for their unique backgrounds. After a brief chat with Bergen, the couples would try to answer four questions. The husband could attempt to answer or "trust" his wife to do so, hence the name of the show. Correct answers to the first three questions were worth, respectively, $100, $200, and $300. For the last question they could wager any of their earnings by answering a question from one of six categories ranging in value and difficulty from $100 to $600. If the couple won no money, they would answer a very easy $100 question. The couple with the most money competed with the winners from the previous week's show to name as many items as possible in a category with the couple coming up with the most answers receiving $100 a week for a year.
Couples could return to the show until defeated. One couple, Erik and Helena Gude, remained on the show long enough to amass $120,800.
International Versions
[
]
A British version of Do You Trust Your Wife? was produced by ATV in September 1956 and was hosted by Bob Monkhouse (making this his first time hosting a game show) and Denis Goodwin. This version featured a top prize of £2 per week for a whole year (for a grand total of £104). It was cancelled after one series and replaced with a loose remake called Bury Your Hachet (also hosted by Monkhouse and Goodwin), which proved to be even worse and was gone by the end of 1957.
An Australian version aired in Melbourne from 1957 to 1958 on station GTV-9, at a time when Australian television series often aired in just a single city. This version was also hosted by ventriloquist, who for this version was Ron Blaskett and his three dolls.
Studio
[
]
The Republic Studios, Hollywood, California
Rating
[
]

Trivia
[
]
The show returned in September 1958 on ABC as a daytime series hosted by Johnny Carson, but in 1958 was renamed Who Do You Trust? to expand beyond having just married couples.
YouTube Link
[
]