Host/Executive Producer
Adam Scott
The voice of The Don't Master/Executive Producer
Ryan Reynolds
Broadcast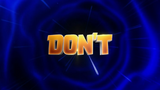 ABC: 6/11/2020-8/13/2020
Packagers
Banijay Studio North America
Maximum Effort
Don't was a short-lived comedic physical game show that offered contestants the opportunity to team up with their family and friends for the chance to win a cash prize of up to $100,000 by tackling hilarious tasks, each with the simple rule: Don't.
Premise
[
]
In each one-hour episode, members of a four-person team strive to accomplish various challenges such as "Don't Blink", "Don't Look Back" and "Don't Play Ball in the House" as they work together to build their bank. If they fail a challenge, they don't earn the money and suffer ridiculous consequences. Along the way, they have the choice to take risks by pushing the Don't Push Button or taking a chance on a Don't You Dare, You. In the end, whatever money they have left in their bank -- if anything -- is theirs to keep.
Mexican Version
[
]
A Mexican version titled Don't: No Lo Hagas (Don't: Don't Do It) hosted by Adal Ramones with El Capi Perez as The Don't Master aired on Azteca Uno in 2020.
Trivia
[
]
According to its host/executive producer Adam Scott, the show's original working title was Please Do Not.
On April 7, 2021; it was announced by TV Line[1] that the show won't be returning for season 2.
References
[
]
Link
[
]