Host
Jack Narz
Announcers
Ralph Paul (CBS)
Wayne Howell (NBC)
Broadcast
Pilot: 10/21/1957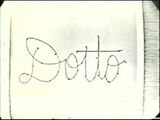 CBS Daytime: 1/6/1958 – 8/15/1958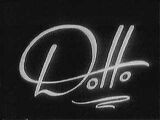 NBC Primetime: 7/1/1958 – 8/12/1958
Packagers
Frank Cooper Productions/Sy Fischer Associates
Dotto was a short-lived (and controversial) game show based on "Connect the Dots".
Gameplay
[
]
Two contestants answered general knowledge questions to connect a series of dots; the dots represented the shape of a person, place or thing. Host Narz asked questions for 5, 8, or 10 dots to be connected. Each correct answer connected the dots on that player's graphic and gave the player who answered the question correctly a chance to identify the puzzle by secretly writing their answer, but a wrong answer connected the dots on their opponent's board.
A player could signal at any time and write the correct answer. If a player wrote down the correct answer, the other player, who could not see their opponent's correct response, had to answer verbally. If that player said the correct answer, the game ended in a tie. Otherwise, the contestant who solved the puzzle won $10 for each unconnected dot. If the game ended in a tie, the next puzzle would be worth $20 for each dot left. If that game also ended in a tie, each unconnected dot in the next game paid the winner $40.
On the NBC version, each unconnected dot paid the winner $100. If the game ended in a tie, the next game paid $200 per dot. Another tie increased the value of the next game to $300 per dot.
Gallery
[
]
Inventors
[
]
Al Schwartz & Snag Warris
Drawings
[
]
Jerry Hammer Associates
Artist
[
]
Eric Leiber
Studios
[
]
NBC Burbank Studio 1, Burbank, CA (Pilot)
CBS Studio 62, New York City, NY (Daytime)
Colonial Theater, New York City, NY (Primetime)
Rating
[
]

Trivia
[
]
Connie Hines of Mister Ed was a contestant on the nighttime show.
Marie Winn, who later wrote the best-selling book The Plug-In Drug, a vicious attack on what she perceived as the addictive nature of television, was the contestant to whom apparent "spoon-feeding" of correct responses struck network executives as suspicious when she appeared on the daytime show in May 1958.
This was the first game show of its kind to be cancelled due to the quiz show scandals. Host Narz was unaware of any rigging, but gained reason to be suspicious when the responses that Winn was giving seemed "a little too pat", as he phrased it.
It was shown as one of the answers on the Now You See It (which was also hosted by Narz in 1974-75) championship board at the end of the run.
British Version
[
]
A British version ran on ITV from 1958 until 1960, originally hosted by Robert Gladwell followed by Jimmy Handley, then Shawn Taylor.
YouTube Links
[
]
A full daytime episode from May 20, 1958 (begins with Marie vs. Yeffe)
A full primetime episode from July 29, 1958 (begins with Connie vs. John)