Hosts
Bill Baker
Noah Eagle
Broadcast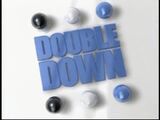 WCNY-TV: 2004-present
Double Down (not to be confused with the virtual casino app of the same name) is a long-running academic quiz show for Central New York high school students.
Gameplay
[
]
The categories used in the game are the following:
ELA
HISTORY
MATH
SCIENCE
ARTS
CURRENT EVENTS
SPORTS
Round 1
[
]
The round is played one player at a time. Each player is asked a question from a specific category. Each correct answer is worth 10 points.
Round 2
[
]
Questions continue one by one, only this time the teams can confer on each question. Also the host commutes back & forth between teams. Each question this time is worth 20 points. Now here's where the show gets its name: after giving a correct answer, the player on the team in control can decide to double down and go for an additional 40 points by answering a bonus question; with the first 20 points taken away from their score if the question was answered wrong. Each team can double down up to three times. Later shows had teams going for the Double Down to pick a category.
Round 3
[
]
Each team plays a 45 second Lightning Round of rapid fire questions worth 10 points each.
Final Double Down
[
]
One last question is asked to both teams, after which the teams write down their answer as well as their wagers. A correct answer adds the wager and an incorrect answer deducts the wager.
Funding
[
]
Utica College
College of Oneota
Links
[
]
YouTube Video
[
]