Host
Jamie Farr
Broadcast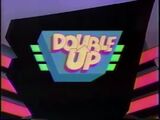 Unsold Pilots for Syndication: 1987
Packager
Dick Clark Productions
Distributor
MCA Television
Double Up (not to be confused with the short-lived 1992 NBC Saturday morning kids dating game show of the same name) was an unsold game show pilot where contestants "fill-in-the-blanks" for big bucks and answer questions to "Double Up" their score.
A question was given with the important words blanked out and leaving only the initial letters. The initial letters were accompanied by a series of little blank spaces representing how many other letters are in the word. The first player to buzz-in got a chance to fill in the blanks by reciting the entire question verbatim (word by word as it appears). A correct solve earned two points plus a chance to score two more points by having the partner answer the question.
Bonus Game (The Double Up Countdown)
Edit
The winning team went on to play the bonus game "Countdown". They had 60 seconds (one minute) to fill in the blanks to a series of statements and guess what the statements are all about. The correct subjects all begin with the same letter. Each correct solve or pass moved on to the next puzzle. Viewers at home saw seven boxes beneath the puzzle which all contain the key initial letter. Upon getting a correct answer, the letter was replaced with the amount of time that was on the clock when the puzzle was solved. If the winning team can solve seven puzzles before time ran out, the contestant wins $10,000.
There were two games per show, so players had a chance to win up to $20,000.
Home Viewer Game
Edit
Home viewers would've also gotten in on the fun and win prizes with the use of a Double Up game card. As previously stated, each correct bonus round answer caused the time that was on the clock when the puzzle was solved to appear in one of the seven boxes (replacing the key initial letter). If any or all of the numbers on their cards match the ones on the screen, they win big prizes.

Community content is available under
CC-BY-SA
unless otherwise noted.