Hosts
James "Jimmy" McClain (1941)
Lew Valentine (1948–1949)
Unknown (1953)
Announcers
Allen C. Antony as "Bugs Beagle" (Radio)
Art Fleming (1953)
Broadcast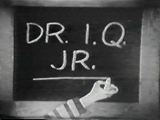 NBC Radio (Weekly): 5/11/1941 – 8/24/1941, 3/6/1948 – 4/2/1949
Unsold Pilot for ABC-TV: 12?/1953
Dr. I.Q. Jr. was a children's spinoff of Dr. I.Q.
Gameplay
[
]
The gameplay was very similar to the adult version, except the silver-dollar prizes were replaced by silver dimes (quarters in the TV pilot) and the questions were slightly easier.
Trivia
[
]
ABC, encouraged by critical response to the TV revival of Dr. I.Q., opted to try a revival of the children's version for TV as well. A timeslot (Saturdays at 8:00 PM Eastern) and start date (December 12) were set, but no host had been signed as of late November 1953.
The TV pilot was filmed at the Little Theater in New York City.
Rating
[
]

YouTube Links
[
]