Hosts
Walter Herilihy & Patricia Bright
Cartoonist
Mel Casson
Broadcast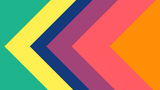 ABC Primetime: 1/15/1949 – 2/5/1949
Draw Me a Laugh was a short-lived primetime game show where contestants tried to come up with the wittiest punchline for a cartoon idea submitted by a home viewer and sketched on camera by cartoonist Mel Casson.
Gameplay
An artist drew a cartoon from an idea submitted by a home viewer. Simultaneously, the gag line, but not the cartoon idea, was given to the contestant, who in a two-minute time limit, drew a sketch. A panel of four studio audience members then judged which of the two drawings was the funniest and the winner got a prize.
Trivia
Another feature on the show was music by folk singer Oscar Brand.
Taping Location