Hosts
Dick Stewart (1966–June 1967)
Bob Barker (sub, June 1967)
Wink Martindale (June–September 1967)
Paul Petersen (September–December 1967)
Hostesses (The Resident Dream Girl)
Beverly Adams (1966)
Karen Valentine (1966–1967)
June Harding (Sub: 1967)
Joyce Menges (1967)
Announcers
Johnny Jacobs (1966–1967)
Hank Simms (sub, 1967)
Roy Rowan (sub, 1967)
Broadcast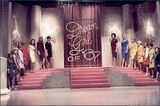 ABC Daytime: 12/19/1966 – 12/29/1967
Packager
Chuck Barris Productions
Dream Girl of '67 (not to be confused with Dream Girl USA) was a short-lived, yearlong daytime beauty contest where five women (girls aged from 18 to 27) were judged by a panel of celebrity bachelors.
Gameplay
[
]
Four or five female contestants were judged by a panel of three celebrity bachelors and one Fashion Hostess on the basis of poise, personality and fashion consciousness. Each daily winner returned to compete on the Friday show to become "Dream Girl of the Week". All weekly winners returned at the end of the year to compete for the title of "Dream Girl of '67" and with the helping of The Beautiful & Healthy Resident Dream Girl.
CASH PRIZES For The Dream Girl of The Day/Today wins $500.
The Dream Girl of The Week wins $5000 in Cash.
The Dream Girl of 1967 wins Cash & Prizes Estimated Total $50,000.
Trivia
[
]
Dick Stewart hosted the show for the first six months, then Wink Martindale took over from June 26 to September 1. When Martindale left to host ABC's How's Your Mother-In-Law?, Paul Petersen (Jeff Stone on The Donna Reed Show) became the new host.
Tickets
[
]
Studio
[
]
The Hollywood Palace Threater, Los Angeles, CA
Similar Show
[
]
The $1.98 Beauty Show – another short-lived Chuck Barris created game show that was similar in the veins of Dream Girl of '67 that aired in syndication from 1978–1980.
Link
[
]