Host
Drew Carey
Announcer
Rich Fields
Broadcast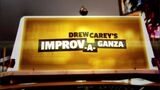 GSN: 4/11/2011 - 6/3/2011
Packagers
Three Foot Giant Productions
Revolution Television
International Mammoth Television
Drew Carey's Improv-A-Ganza was a short-lived, improvisational comedy game show, and revival of the hit UK & USA series Whose Line is it Anyway?.
Premise
[
]
The series features Carey along with his fellow cast members as they create a lively, unpredictable and hilarious half-hour of improvised sketch comedy, complete with audience participation.
Performers
[
]
Ryan Stiles
Colin Mochrie
Wayne Brady
Greg Proops
Brad Sherwood
Charles "Chip" Esten
Jonathan Mangum
Jeff Davis
Alexander Lim
Sean Masterson
Kathy Kinney
Heather Anne Campbell
Rich Fields (guest performer, 1 episode)
Steve Kamer (guest performer, 1 episode)
Games
[
]
All games are just like they were on Whose Line is it Anyway? in the UK and the USA and/or Drew Carey's Green Screen Show (except where noted).
Sound Effects
Greatest Hits
Sentences (aka Whose Line)
New Choice (aka Quick Change)
Song to an Audience Member (aka Song Styles/Duet/Doo-Wop)
Moving People/Moving Bodies
Options (aka Film, Theatre and TV Styles)
Freeze Tag
Question This! (aka Improv Jeopardy!) - One player plays the host and four others play as contestants on a game show patterned after Jeopardy!
Forward/Reverse - Players act out a scene moving and speaking in directions announced by another who acts as a caller.
Two-Headed Expert - A pair of players (who talk either in unison or saying every other word) acts as an expert on a topic suggested by the audience while another pair (with the same speaking restrictions) either is interviewing or is learning from the first pair.
Story/Fairy Tale
Bob's Call (aka Show Stopping Number)
First Date - A married couple is selected from the audience and is interviewed about their first date and some parts are acted out by the cast. If the fact is acted out correctly or not, a particular sound is made.
Mousetraps - Two players act out a scene barefoot and blindfolded on a stage littered with 100 live mousetraps, a game that is often performed during An Evening with Colin and Brad.
Kick It! - An revised version of "Scene to Rap", two players act out a scene and must start rapping when a third calls out "Kick it!" until the caller says "Word!".
Playbook - Two players act out a scene with one speaking freely and the other only using lines from a playbook given to them.
See Also
[
]
Drew Carey's Green Screen Show
Music
[
]
Bob Derkach
Studio
[
]
MGM Grand, Las Vegas, Nevada
Trivia
[
]
Rich Fields previously worked with Carey on The Price is Right for three years prior to the premiere of this show. Fields, however, left the show in 2010 after his contract expired and was unable to renew it; he has been replaced by George Gray since 2011. This marked the first time since the two worked together in eight months.
Rating
[
]

Links
[
]
GSN Show Website
Show Fan Website
YouTube Link
[
]