Host
Roger Price
Announcer
Don Pardo
Broadcast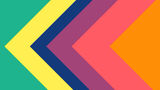 NBC Primetime: 6/21/1954 – 9/17/1954
Packager
Frank Cooper Associates
Droodles was a short-lived primetime game show where celebrities tried to identify drawings with captions for Droodles submitted by home viewers or sketched by host and cartoonist Roger Price.
Panelists
[
]
Marc Connelly
Denise Lor
Carl Reiner
Gameplay
[
]
A celebrity panel tried to identify a Droodle or supply a caption to one of host Price's Droodle picture drawings. A Droodle was a simple line drawing that depicted an object or scene from a strange or different perspective.
The show opened with the show's guest panelist drawing his/her own Droodle for the show's regular panelists to identify, afterwhich, he/she joined them in guessing what was depicted in various droodles.
Home viewers could also send in their Droodles and if the panel could not guess what they were within four minutes, the viewer would win $100 (sometimes other prizes).
At the end of the show, Price drew a special $100 Droodle. This contest invited viewers to send in their own possible titles for it, with the best title winning the money.
Studio
[
]
Century Theater, New York City, NY
Trivia
[
]
Many of Roger's Price's Droodles were published in a series of books. He was also a one-time gag writer for Bob Hope and helped to create the party game, Mad Libs.