Hosts
Method Man & Hailey Baldwin
Broadcast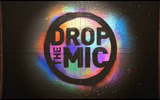 TBS: 10/24/2017 – 6/17/2018
TNT: 1/23/2019 - 3/27/2019
Packagers
CBS Television Studios
Fulwell 73
Drop the Mic is a celebrity rap battle contest that's based on the enormously popular segment from the Emmy-winning late night CBS talk show The Late Late Show with James Corden.
Premise
[
]
Each week, the show pits four stars from the worlds of entertainment, music, sports and pop culture to face off against each other in a rap battle royale packed with lyrically creative genius and "Did they really just say that?" moments. At the end of each head-to-head battle, the studio audience determines the winner.
Banner
[
]
Trivia
[
]
Method Man was a member of the rap group the Wu-Tang Clan. In addition, his real name is Clifford Smith.
Hailey Baldwin is the daughter of actor Stephen Baldwin and part of the Baldwin family. She is currently married to Justin Bieber.
The title is almost a spoof of the term "Mic Drop".
This show was mostly paired up with Snoop Dogg Presents The Joker's Wild hosted by Snoop Dogg.
In Season 1, the show aired on Tuesday nights; in Season 2, the show aired on Sunday nights.
In Season 3, the show (along with Snoop Dogg Present The Joker's Wild) was announced it would be moving to its sister network TNT; However, the reruns would be encore on its original channel TBS.
On That's My Jam, one of the wacky musical games that shares a similar name to this title is called "Launch the Mic".
Links
[
]