Host
Lonnie Shorr
Announcer
John Harlan
Broadcast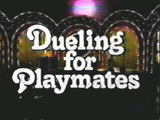 Playboy Channel: 8/7/1983 – 8/30/1988
Packager
Michael Trikilis Productions
Dueling for Playmates was a game show where two men competed to win a date with a Playboy Playmate.
Gameplay
[
]
The game consisted of four rounds.
Round 1
[
]
In the first round, the men tried to predict how the Playmates responded to certain questions, earning points for a correct guess.
Round 2
[
]
In the second round, the men were put in a mud pit and raced to place as many balls (literally) on a ledge as they could in a specified time limit, earning points for each ball.
Round 3
[
]
In the third round, the men were shown a film profile of each Playmate and were asked questions about it, earning points for correct answers.
Final Round
[
]
In the fourth and final round, each of the men did a strip tease before a panel of four Playmates, who rated them on four categories (Personality, Body, Movement, and Sensuality). The men earned points based on the rating.
---
The man with the most points won the game and the date with the Playmate.
Studio
[
]
Golden West Studios, Los Angeles, CA
Rating
[
]