Host
Bob Eubanks
Announcer
Ron Hussman
Taped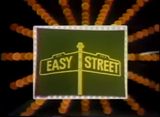 Unsold Pilot: 1981
Packager
The Hill-Eubanks Group
"(insert video of three potential contestants) Welcome to the world's most dazzling byway where today's glamorous gallery of gifts is valued at over $1,000,000. It's all here to be won on EASY STREET! And now, your Easy Street host, Bob Eubanks!"
Easy Street was a runthrough for a potential game show pilot.
Gameplay
[
]
Three women compete. A question is asked, usually via a small skit or other visual elements, pertaining to the cost of an item in a specific year. The players write down their guesses, and whoever is closest gets to select one of various "gold cards", each with various codes pertaining to a set of prizes. A card is selected and ran through a scanner to reveal the chosen prizes. The player can then bank those prizes or select a "chance card", which contains higher-value prizes (including one worth $10,000) as well as penalties, such as stealing prizes et al.
When time is called, the prices of the prizes are added up, and the contestant with the highest total keeps all their prizes. The runners-up receive a cruise to Mexico.
Bonus Game (Super Shopping Spree)
[
]
The winning contestant is shown a board of 30 spaces. 15 spaces represent three prizes in groups of five, while the others are worth $1,000 each. The contestant is given five ribbons, and must mark one space in each column, with the idea being to mark enough spaces to win one of the three major prizes:
24-karat gold necklace ($20,000): 3 spaces
Bugatti Gazelle ($30,000): 4 spaces
Vacation home ($100,000): 5 spaces
If the contestant can mark enough spaces, they win one of the prizes. Marking a $1,000 space gives them that money regardless of outcome. Should the contestant mark all five prize spaces, they win that prize and $5,000. After the five selected spaces are revealed, the contestant has the option of swapping out spaces if they think they have better odds of winning.
YouTube Video
[
]