Host
Nikki Glaser
The Bacherlorettes
Nakia Renee
CJ Franco
Sarah Emig
Broadcast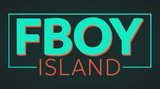 HBO Max: 7/29/2021-present
Packager
STXalternative
FBOY Island (or Fboy Island) is a reality dating series that features three women (i.e. Renee, Franco & Emig) who move to the Cayman Island where they navigate a dating pool to find a lasting love connection. According to the tagline, this is the show where "Some hunt for love, others love the hunt".
Premise
[
]
As the three women (i.e. Renee, Franco & Emig) try to find their soul mate, 24 men (i.e. 12 self-proclaimed "nice guys" looking for love & 12 self-proclaimed "Fboys" there to compete for cold, hard cash [i.e. $100,000]). By the finale, all will be revealed where we ask the all important question, who is a Nice Guy?, who is an FBoy? and who the women ultimately choose? Can FBoys truly reform? Do Nice Guys always finish last?
Trivia
[
]
The "F" in "Fboy" stand for F**kboy where its mainly slang for a male who behaves obnoxiously, perhaps with desperate attempts to appear cool or by acting entitled to sexual encounters (mainly towards women).
Link
[
]