Host
Evan Marriott
Broadcast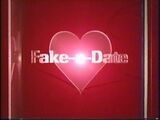 GSN: 3/17/2004 – 6/2004
Packager
Montana Productions
Fake-A-Date was a short-lived reality dating game show.
Premise
[
]
The game featured one lucky contestant paired up with two singles of the opposite sex. At the end of the dual date, the contestant had to choose between the dates. The catch was that one of the singles was truly looking for love, while the other one was a pretender out to win a luxury trip with their real significant other. The honest single would pre-choose the contestant as someone who could be their soul mate, while the other "single" had no interest in romance with the contestant. However, the sparks would fly as the pretender attempted to generate some heat with the contestant in order to be chosen at the date's end. If the contestant made the wrong choice, the pretender won the luxury vacation to spend with his/her significant other; if the contestant chose wisely, he/she would join the honest single on a grand prize vacation.
Poster Ad
[
]
Trivia
[
]
Before Evan Marriott hosted Fake-A-Date, he appeared on a Playboy Special of "Family Feud".
Link
[
]