Host
Robert Hoffman (Season 1)
Corbin Bleu (Season 2)
Judges
Rozonda "Chili" Thomas (Season 1)
Harry Shum Jr. (Entire Run)
Michael Curry (Season 1)
Laurieann Gibson (Season 2)
Beau Casper Smart (Season 2)
Backstage Correspondant (Season 2 Only)
Meghan Camarena
Broadcast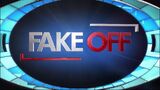 truTV: 10/27/2014 – 6/24/2015
Packager
Shine America
Fake Off was a short-lived reality competition series where contestants competed against one another as they recreated moments from pop culture's past.
Format
[
]
Ten teams of performers would go head-to-head recreating iconic moments in pop culture. From video games to movies to sporting events, these incredibly talented performance troupes used a mixture of theater, acrobatics, costume and illusion to reimagine events in spectacular ways never seen before.
Season 1 Structure
[
]
In each of the first four episodes, a group of five teams appeared each week, with each set competing on two episodes. Each team was given a pop culture-based theme (referred to as a "fake") to recreate for that episode. After giving a 90-second performance, the judges would each give a score on a scale of 1 to 10. After the judges scored the performances, the audience would give their own score for each performance, with the average score of the audience (rounded to the nearest whole number), being added to the judges' score to create a total for that episode.
After the first two episodes, each set of teams would return for another episode, repeating the process, and the team with the lowest score from both appearances in each set was eliminated from the competition. For the fifth episode, the scores were reset to zero, and the remaining teams in each of set would compete in another episode, and again the team with the lowest score on that episode would be eliminated. After these two episodes were done, the remaining six teams competed together in the semifinals, with the two lowest scoring teams in this episode being eliminated.
In the semifinals, each team chose their own fake. The remaining four teams competed in the finale, where the themes were decades (again each team could choose their own fake), and the team with the highest score in this episode won the season, the title of "America's Best Fakers" (of which they were given crowns), and the $100,000 grand prize.
Season 2 Sturcture
[
]
This season made the following changes:
Each of the first six episodes had a specific theme, and all the fakes in that episode were centered around that theme.
In the fifth and sixth episodes, the judges served as mentors to the teams.
In the semifinals, the remaining six teams would each choose a fake that one of the other teams had done before, and reinvent it in their own style.
The season finale was the only episode where the teams could choose their own fakes.
---
Like the last season, the team with the highest score in the finals won the competition, and $100,000. The only other change was that the crowns were replaced with a trophy.
Taping Location
[
]
Hiram, GA
Link
[
]