Host
Brian McFayden
Panelists
Debra Skelton
Katie Cleary
Dr. Robert Rey
Broadcast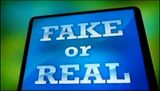 Aired Pilot for E!: 5/11/2009
Packager
E! Entertainment Television
"McFayden: We're about to meet three attractive people. One of them has had plastic surgery, the other two have not! Can our celebrity judges tell the difference? Will find out on the ultimate plastic surgery game show, FAKE OR REAL!"
Fake or Real is a broadcast pilot with a panel of doctors trying to discern whether a model's looks are either her own, or the work of plastic surgery.
Premise
[
]
Three models played: one who had surgery, while the other two are natural. The players have to convince the judges that they are the one that had the surgery. The ones that do manage to stump the professionals wins $1,000.
Inventor
[
]
Amy Ashton
YouTube Video
[
]