Hosts/Executive Producers
Kristen Bell & Dax Shepard
Broadcast (NBC)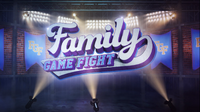 Sneak Preview: August 8, 2021
Series: 8/11/2021 - present
Packagers
A Very Good Production
Telepictures
Warner Horizon
Family Game Fight! is a game show, where two families will take on each others, as they play "larger-than-life"- games, with hosts Kristen Bell and Dax Shepard. One of the families haves a chance to win grand prize of $100,000 each episode.[1]
The Special Premiere of the show is set to air on Sunday August 8, 2021, right after Tokyo Summer Olympics 2021 Closing Ceremony, and the actual season begins on Wednesday August 11th at 9 p.m.[2]
The program is based on game segments of The Ellen DeGeneres Show and Ellen's Game of Games where it was inspired by the couples competitive antics, and is executive produced by Ellen DeGeneres.
Premise
The couple (i.e. Shepard & Bell) are being pitted against each other as they are each "adopted" into a different family of four competing for $100,000 in a series of fun-filled and larger-than-life games.
Trivia
The title is a reference to a similarly named show Family Game Night hosted by Todd Newton.
The show replaced Ultimate Slip 'N Slide hosted by Bobby Moynihan & Ron Funches which was cancelled do to a giardia outbreak (a.k.a. explosive diarrhea) problem in production and was scrapped later on in its lifespan.
References
Links