Host
Bob Eubanks
Announcer
Dean Miuccio
Broadcast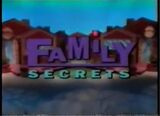 NBC Daytime: 3/22/1993 – 6/11/1993
Packagers
Dave Bell Productions
"From the Disney-MGM studios in Orlando, it's the game show that has America talking, it's FAMILY SECRETS! And here's the star of Family Secrets, BOB EUBANKS!"
Family Secrets was a short-lived family game show originating from Orlando, Florida.
Two families, consisting of two parents and one child, competed.
In Round 1, the parents were brought into isolation, then the kids were asked two questions about their dad. The dads were then brought out of isolation, and were asked for their answers to the same questions. Each match was worth $100. The process was then repeated with two questions about their moms.
In Round 2, the kids were put into isolation. The parents were then asked two questions about their kids. The kids were then brought out to answer the same questions, with each match being worth $200.
For the last question, a numerical question about the average American family was asked. Each family had ten seconds to write down their answer. The family that came closest won $500. The family with the most money (out of a possible $1,300) at the end of this round won the game, an extra prize, and moved on to the bonus round.
NOTE: Should both families be tied in answer, then the family with the higher score won the game and the additional $500. If there was a tie in money totals at the end of the game, a second numerical question was asked.
In the bonus round, the child would hear a category, and pick which parent would answer a question in that category. If the family could answer three questions correctly before getting three wrong, they won a trip.
"Child contestants have been advised of some questions just prior to taping."

During the series' run, controversy arose when one team competing on the show turned out not to be a real family. Identifying themselves as the Hansen family, the team actually consisted of a father, his 10-year-old daughter and his live-in girlfriend who posed as the daughter's mother. A May 1993 Chicago Tribune report reported the team won $6,000 in prizes, but the girl's real mother discovered the deception. She contacted NBC and Dave Bell Associates, the series' packagers, to get the episode pulled before its intended May 27, 1993 broadcast date. Officials at both companies agreed to pull the episode and replace it with a rerun. The father and his girlfriend married on June 11, 1993, the same date of the series finale.
The daughter was awarded her prizes (a camera and a CD player), but the family was not awarded the family cruise or their cash.
The show was canceled after twelve weeks of episodes not only due to low ratings, but also because the show's contestants constantly failed to meet NBC's game show eligibility requirements.
Community content is available under
CC-BY-SA
unless otherwise noted.