Broadcast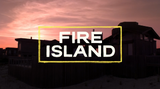 Logo: 4/21/2017-6/1/2017
Packagers
Milojo Productions
Fire Island was a short-lived gay-themed reality dating show that was fresh off the hilarious sketch from Saturday Night Live (or SNL for short).
Premise
[
]
The show follows a group of six young professional gay males who are living together in a beachfront share house for the summer as they search for romance, temptation and thrills that have brought the LGBTQ community to the island for decades.
Reception
[
]
Following the release of a 90-second teaser for the show , a March 2017 op-ed personal trainer Jason Wimberly in The Advocate suggested that the series "contributes to gay America's moral decline" by glamorizing behavior that negatively impacts the perception of the LGBT community. Fire Island case members defended the series by calling it "lighthearted" and noting that "we're not harming anyone" and cast members of MTV's very own controversial reality series Jersey Shore commented that "bad press is good press" and advised the Fire Island cast to "take criticism with a grain of salt".
Trivia
[
]
The series is produced by husband and wife duo Kelly Ripa and Mark Consuelos.
On March 11, 2017; The Long-running sketch comedy show Saturday Night Live (SNL) had parodied the show but with affluent lesbian women finding true love instead of gay men called Cherry Grove.
A 90-second teaser trailer was released for the show on March 6, 2017. On March 14, 2017, Logo announced an April 27 premiere date for the series. The first episode (Aired April 21, 2017) was previewed in the US on VH1 at 9pm after RuPaul's Drag Race. The series premiered on Logo at 8pm on April 27, 2017 with the first two back-to-back episodes.
Link
[
]