Host/Bacherlor
Flavor Flav
Broadcast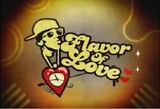 VH1: 1/1/2006 – 5/26/2008
Packagers
51 Minds Entertainment/
Debmar-Mercury Productions
Distributor
Endemol
Flavor of Love (2/3) was a reality dating parody show starring Flavor Flav "the greatest hypeman in the business" of the rap group Public Enemy where various women will try to win his heart.
Premise
[
]
Twenty different ladies compete for Flavor Flav's heart as they live together in a mansion in Encino, California. He is helped in his quest by his bodyguard and chauffeur named "Big Rick". He was also assisted by his mother, as well as his former romantic partner (and former cast member of The Surreal Life season 3 as well as Strange Love) Brigitte Nielsen in the first season, and Tiffany Pollard in the second. In the show, each contestant is given a nickname by Flav and is referred to by that nickname for as long as she remains in the competition, as Flav says he can remember nicknames more so than real names. The series features a clock ceremony where contestants who are not eliminated receive gold clocks to wear around their necks with their picture and nickname behind the hands of the clock. When a contestant is eliminated, her real name is then revealed, followed by a champagne toast.
There are a few basic elements of the show's format that have been consistent through each season of production. Throughout the season, the contestants compete for intimate dates with Flav by competing in various challenges. Also, Flav brings the few remaining women's parents on in the third or second to last episodes. Finally, the season finale takes place in a tropical destination. where the two finalists and Flav spend the last two days at a luxurious resort preceding his final decision.