Host
Wil Willis
Judges
J. Neilson
Doug Marcaida
David Baker
Jason Knight (S3-5)
Ben Abbott (S4-8)
Broadcast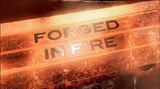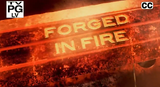 History: 6/22/2015-present
Packager
Outpost Entertainment
Forged in Fire is a reality competition series where the most talented bladesmiths in the world will test their mettle in a cutting edge competition as it features world-class bladesmiths recreating many of history's most iconic edged weapons, from the Japanese Katana to the medieval broadsword to ancient throwing blades like the chakram.
Premise
[
]
In each episode, four master bladesmiths will put their reputations on the line, trying to avoid elimination while using traditional and state-of-the-art tools and machinery to turn raw metal into authentic working versions of classic bladed weapons of yesteryear. In the hands of these gifted craftsman, every weapon in now just a lethal instrument of war, but also an elegant work of art. The colorful histories of these weapons will be told throughout the forging process. Then the weapons will be assessed and tested by a panel of internationally recognized judges.
Joining Willis will be a judging panel of renowned experts: J. Neilson, a Pennsylvania-based Mastersmith who has been making knives and edged weapons for more than 20 years; Doug Marcaida, a New York-based hand-to-hand combat specialist who has studied and mastered fighting styles and techniques around the world and David Baker, a California-based authority known for replicating period-accurate weapons, from submachine guns ton samurai swords for both museums and films.
Related show
[
]
Forged in Fire: Knife or Death
Link
[
]