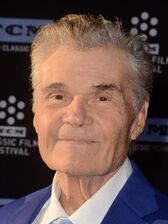 Frederick Charles Willard (born September 18, 1939, died May 15, 2020) was an American actor, comedian, voice actor, and writer, best known for his improvisational comedy. He was known for his roles in the Rob Reiner mockumentary film This Is Spinal Tap, the Christopher Guest mockumentary films, Waiting for Guffman, Best in Show, A Mighty Wind, For Your Consideration, Mascots and the Anchorman films. He was an alumnus of The Second City. He received three Emmy nominations for his recurring role on the TV series Everybody Loves Raymond. In 2010, he was nominated for the Primetime Emmy Award for Outstanding Guest Actor in a Comedy Series in Modern Family.
He was nominated for the Daytime Emmy Award for Outstanding Talk Show Host in What's Hot, What's Not. One of his earliest jobs was at The Second City, Chicago, where he shared the stage with Robert Klein and David Steinberg. He was a founding member of the improvisational comedy group Ace Trucking Company. Fellow members of Ace included Michael Mislove and Bill Saluga. They performed sketches on The Tonight Show With Johnny Carson over fifty times and appeared regularly on This is Tom Jones. He was also the voice of Albert Loud, The Loud Family's grandfather on The Loud House. 
Fred Willard passed away on May 15, 2020 due to cardiac arrest at age 86.