Host
Jack Clark
Taped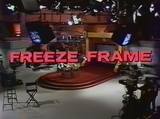 Unsold Pilot: 1981
Packager
Sun Television Production
Distributor
Firestone Program Syndication Company
"It's Freeze Frame with all your favorite stars, and here's our host and star, Jack Clark."
Freeze Frame was an unsold game show pilot which was later retooled as Flash Frame hosted by Bob Eubanks in 1984.
Trivia
[
]
There was also a song of the same name released in the same year by The J. Geils Band though it has nothing to do with this pilot at all.
See Also
[
]
YouTube Link
[
]
Full Pilot (NOTE: At the beginning there is a small clip of The Arsenio Hall Show featuring former President Bill Clinton playing the saxophone)