Host
Lloyd Thaxton
Announcer
Kenny Williams
Broadcast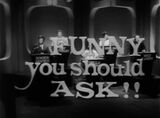 ABC Daytime: 10/28/1968 – 6/27/1969
Packagers
Merrill Heatter/Bob Quigley Productions
Funny You Should Ask!! was the celebrity comedy game show where the celebrities were asked questions, and the contestants had to guess which celebrities gave what answers.
(Keep in mind that this shouldn't be confused with the syndicated 2017 comedy game show of the same name by Entertainment Studios.)
Gameplay
[
]
The game was played with a five-celebrity panel facing two contestants.
In each round, the celebrities were asked a dilemma-type question to which they gave their opinionated answers, while the contestants were locked away in a soundproof room. When the contestants were released from isolation, they were given the same question for the first time. They were given the celebrities' answers in no particular order and chose which celebrity gave each answer. The contestants made their choices by pressing a button corresponding to the star they wished to choose. Each time either player chose the correct star, he/she scored a point; the player with the most matches won the round and a $100 Spiegel gift certificate, which both players split in case of a tie.
If in any round, any player matched four stars in a row, he/she won all the money in the "Funny Money Jackpot" which started at $100 and increased by $100 per round until won. The player with the most matches at the end of the game won a special prize.
Music
[
]
Main – "Shades" by Patrick Williams
This would later be used as the theme on The Honeymoon Game.
Studio
[
]
ABC Television Center, Los Angeles, CA
Episode Status
[
]
Only four episodes are known to exist, all from 1969. In addition to the three listed below, there is a January 1969 episode with panelists Milton Berle, Rose Marie, Stu Gilliam, Jan Murray, and Janis Paige.
While the series aired in color, at least three of the surviving episodes are in black-and-white.
Rating
[
]

Links
[
]
YouTube Videos
[
]
Clips of a January 1969 episode (Noel Harrison, Nanette Fabray, Jim Backus, Jan Murray, Donna Jean Young):
A full episode from February 1969 (Dean Jones, Rose Marie, Stu Gilliam, Marty Allen, Meredith MacRae; Rita vs. Jake {Funny Money Jackpot starts at $1,100})
A full episode from March 24, 1969 (Glenn Ford, Zsa Zsa Gabor, Stu Gilliam, Jim Backus, Martha Raye; Susan vs. Nick {Funny Money Jackpot starts at $4,400}):