Hosts
Russ Parr & Alfredas
Broadcast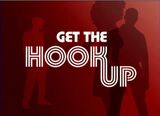 TV One: 2004
Packager
Big Chief Entertainment
Get the Hook-Up was a dating game show for black people that proves whether you've got game or your game is lame!
Gameplay
[
]
One African-American bachelor or bachelorette faced three members of the opposite sex in a series of rounds.
Round 1 (Word is Bond)
[
]
The bachelor(ette) posed Dating Game-type questions to the three potential dates, and the potential dates answered in any way they can.
Round 2 (Got Skills?)
[
]
This was where the potential dates showed off their talents.
Round 3
[
]
There were two versions of round three.
Off the Hook (Season 1)
[
]
Where the potential dates performed a few dance moves.
Rapid Fire (Season 2)
[
]
For the next 30 seconds, hosts Parr & Alfredas asked a series of rapid fire questions to the three contestants one at a time to reveal something about themselves.
---
After the third round, the chooser will decide which contestant he/she wishes to go out with, while the losers were sent "To the Bar!".
Flip the Script (Bonus Round)
[
]
In the final round, the roles were reversed. The winner of that day's game decided which of the three categories to perform in. The chooser must then perform in that chosen category. After the performance, the winning player will decide to either take what's behind the curtain, or go out on the date with the chooser.
Trivia
[
]
During the second season, hostess Alfredas was pregnant.
Links
[
]
Official 1st Website (via Internet Archive)
Official 2nd Website (via Internet Archive)
Video Links
[
]
Vimeo
[
]
Full Episode of Get the Hook Up
YouTube Videos
[
]