Host
Guy Fieri
Broadcast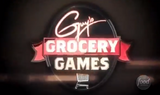 Food Network: 10/20/2013-present
Packager
Relativity Lifestyle Television
Guy's Grocery Games is a reality competition show for the Food Network where contestants face cooking & real-life challenges in a supermarket.
Premise
[
]
Four chefs compete inside a supermarket trying to complete a series of challenges and only one of them will earn the right to go on a $uper $hopping $pree for up to $20,000 in cash.
Format
[
]
The episode starts with Guy introducing 4 chefs and telling them the rules of the game. They each get their carts. Guy pretends to forget to tell them about the challenge. They have time ranging from 20 minutes to 35 minutes (usually 30 minutes) to shop, cook a dish and complete four platings (three for the judges and one "beauty plate") before time runs out. The judges are introduced by Guy during the first round. A montage of "Flavortown Market" is shown before the first judging. On some episodes, a culinary quiz occurs in which a chef can get an advantage in the next round. The winner gets to go on a $uper $hopping $pree where they get 10 items that are each worth $2,000 adding up to a grand total of $20,000.
Types of Challenges
[
]
Challenges introduced in Season One: Out of Stock, Budget Battle, Frozen Food Feud, 5 Ingredients or Less, Grocery List, Closing Time (must gather items within time limit as lights go out), Mixed Bag/Bag Swap, Can Can, No Carts Allowed, Single Aisle Showdown, and Culinary Quiz.
Challenges introduced in Season Two: ABC (all shopping ingredients must begin with that letter), Cart Swap, Meals From the Middle, Red Light Special (must use unlikely ingredient in challenge), Clearance Carts, Top Shelf/Bottom Shelf, Aisle Down (similar to Out of Stock), Watch Your Weight (combined weight of groceries must weigh certain amount), Keep it Sample (must use 'free sample' in dish), Food Wheel (one wheel consist of a protein and either a color, aisle, or budget), Grocery Pictogram, Know Your Varieties, Word, Grocery Close-Up, Market Multiple Choice.
Challenges introduced in Season Three: Ungredient List (a viewer submitted challenge featuring forbidden items, i.e. cannot use ricotta for lasagna)
Note: Bold text signifies challenges to give one contestant an advantage in the next round.