Hosts
Herb Allen (1948–1952)
Howard Roberts (1952–1953 Season)
Assistants
Jim Andelin (at least part of the Allen era)
Angel Casey (1952–1953 Season)
Broadcast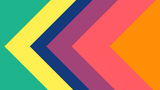 KLAC (Los Angeles): 10/6/1948 – 4/6/1951
ABC Early Evenings: 9/22/1951 – 6/14/1952
ABC Saturday Mornings: 12/27/1952 – 6/20/1953
Packager
GAM Productions
Hail the Champ was a 1950s game show for kids in which two teams competed in games and stunts for prizes.
This children's game show featured six youngsters on each show. Two players were used in each of three contests. The three winners from each of the contests played in the final event to determine the day's winner. The winner of the day won merchandise prizes including a new bicycle.

Angel Casey became the show's new assistant when Howard Roberts became host in 1952.
The ABC version was broadcast from the Civic Opera House in Chicago, IL.
Community content is available under
CC-BY-SA
unless otherwise noted.