Host
Richard Blais (2015)
Jeff Dunham (2016)
John Henson (2017–Present)

Carla Hall (2020)
Judges
Carla Hall
Ron Ben-Israel (2015)
Sherry Yard (2015)
Damiano Carrara (2016)
Sandra Lee (2016)
Lorraine Pascale (2017–Present)
Zac Young (2017–Present)
Broadcast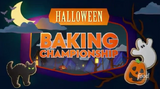 Food Network: 10/5/2015 – Present
Packager
Triage Entertainment
Halloween Baking Championship is the fourth spinoff of Holiday Baking Championship, Kids Baking Championship and Spring Baking Championship where seven of the country's top bakers compete to create Halloween's spookiest and most creepy-crawly confections in order to win the grand prize of $25,000.
Format
[
]
Each episode has two rounds. The first round is the "Preliminary Heat" where the bakers are told of their themes for the first time and get varying times (anywhere from 30 minutes up to 2 hours) to create a small pastry (usual cookies or small cake). The person who wins the first round gets an advantage going into the next round, and aren't told until after the second round theme is announced (and sometimes they're not told until the middle of cooking in the second round). The advantage varies by episode (ex: exclusive use of a certain mold or ingredient or first choice of a theme).
The second round is called the "Main Heat" and the contestants get a considerably longer time to bake than the "pre-heat" (in the final round of the final episode they're given several hours to make a large confection). This larger dessert must fit a new theme presented (usually in the same vein as the pre-heat theme). One baker is eliminated every episode except for the last one. In the finale it's down to the final three or four contestants and the winner is chosen from the "Main Heat" final round, effectively eliminating the remaining bakers in one episode. The winner gets $25,000.
For the 2020 season, the format was modified to only have the Main Heat for the entire hour.
Trivia
[
]
Before becoming a judge, Ron Ben-Israel was a former host of the short-lived reality competition series Sweet Genius from 2011 until 2013.
Prior to becoming the current host of the show, John Henson was once the co-host of the ABC obstacle course show Wipeout.
Other Versions
[
]
Link
[
]