Host
Greg Proops
Broadcast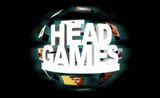 Science Channel: 10/17/2009 – 12/26/2009
Packager
Whoopi Inc./One Hoe Productions
Head Games was a short-lived game show where three contestants bet their bank that they know the answers to science's craziest riddles.
Three contestants competed simultaneously. During normal gameplay, all of the questions were related to science experiments or demonstrations which were shown to the contestants as prerecorded video clips. The contestants had to attempt to predict the outcome of the experiment or demonstration. Each contestant would choose one of three possible outcomes and then the answer was revealed. After several multiple choice video questions, the gameplay would change to a faster paced bonus round where contestants had to buzz-in and answer questions related to the previous video round. In the bonus round, wrong answers did not penalize the player, and other players could not answer a question once one player attempted it.
After two video rounds and two bonus rounds, the lowest scoring player was eliminated. The final two players would progress to the "under the microscope" round, where questions were presented rapidfire for a fixed amount of time, and contestants had to buzz-in and choose from one of three answers. There was a Jeopardy!-style penalty in this last round, during which wrong answers subtracted from the player's score. The player with the higher score at the end of the round kept his/her money and received a Head Games championship trophy.
This was the second game show that Greg Proops hosted.
The show was produced by Whoopi Goldberg and her production company Whoopi inc.

Community content is available under
CC-BY-SA
unless otherwise noted.