Host
Wayne Faligowski
Co-Host
Jeremiah Stroup
Broadcast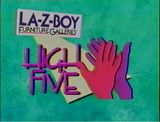 KPTV: 1993–2001
KWPB: 2001-200?
KOIN
OPB 2006–2008
KPDX: 2008–2009
High Five Challenge was a quiz show for teenagers in Portland, Oregon. It occasionally also featured students from Washington (State), and British Columbia, Canada.
Premise
[
]
Children aged from 13-16 who live in Oregon, Washington (State), and British Columbia, Canada compete. Each team consists of five to seven students. All teams also have a minimum of one High Five coach, either a teacher, counselor or parent. There is no cost to the schools to participate. They answer questions for prizes worth $400,000. Each week 50 questions and answers are featured, five questions in each of 10 categories.
Gameplay
[
]
Two teams of five players competed in each show. Four members of each team stood at a podium. The fifth one was the "Wild Card". They were given 2,000 points to start the game, which was played in two rounds.
In each round, the teams were shown five categories, each containing five questions. One of the categories was selected by a computer. Whichever one was selected, Faligowski would ask the questions in it. Two of the questions in each category were worth 10 points, another two were worth 20 points, and the remaining question was worth 40 points. The questions were read in a random order. Correct answers added the points to their score, while an incorrect answer deducted those points.
Wild Card Rules
[
]
On any question, the Wild Card player of a team could ring in and answer themselves. This was called a steal.
Final Category
[
]
The last category of the game was played for double value on each question; meaning two questions were worth 20 points, another two were worth 40 points, and the remaining question was worth 80 points.
---
Both teams received a small prize for their appearance. The team with the highest score received a bigger prize. The other team received a prize of medium value.
Sponsors
[
]
Hollywood Video
La-Z-Boy Furniture
Links
[
]
YouTube Videos
[
]