Hosts
Rob Riggle
Joe Tessitore
Jeannie Mai
Broadcast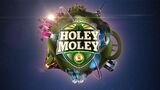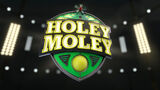 ABC Primetime: 6/20/2019-present
Packager
Eureka Productions
Unanimous Media
Holey Moley is an ABC reality competition show based on miniature golf.
Premise
[
]
Eight miniature golfers (originally twelve) face-off in a series of sudden death matches of Extreme Mini-Golf until there's only one left. The last golfer standing wins $25,000 and a plaid jacket. In the second season, winners return for a final tournament where one putt could be worth $250,000.
Season 1
[
]
Twelve mini-golfers were paired off in Round 1. Each pair face off on one of the various holes on the course. The holes are overblown parodies of those one might find on their local mini-golf course. Some feature obstacles to be crossed, where failure costs the player an additional stroke, while others have multiple possible access-ways to the green, some leading into hazards or behind obstacles. The winner of each hole goes to Round 2, where the six remaining players are paired off again, each to play one of three more holes. Each of the three Round 2 winners progresses to the final round on the course's crowning hole, "Mt. Holey Moley". The winner of this final hole won $25,000, a "Golden Putter" trophy and the "coveted" green plaid Holey Moley jacket (similar to the awarding of the "Green Jacket" in the PGA Masters' Golf Tournament). In the case of a tie on any hole, a sudden death "putt-off" was held to determine that hole's winner.
Season 2
[
]
The second season of the show was titled "Holey Moley II: The Sequel". The number of players each episode was reduced from twelve to eight, and new holes were constructed for this season, although a select few carried over from Season 1 with minor changes. Round 1 consisted of four holes this time, and Round 2 of two more holes, with the two finalists going to the final hole, "Frankenputt" (so named because each missed putt earns the player an electrical shock from attached bands around their arms & legs). In this, the winner of each episode only won the "Golden Putter" and plaid jacket, but they would also return for a final tournament, where the overall winner would face a difficult additional hole called "The Tomb of Nefer-Tee-Tee." A hole-in-one putt in this final hole would earn them $250,000.
Trivia
[
]
This reality competition is executive produced by NBA all star Stephen Curry.
Production Location
[
]
Sable Ranch, Santa Clarita, California
Catchphrase
[
]
"HOLEY MOLEY!" - Rob/Joe/Jeannie
Link
[
]