Hosts
Bobby Deen (2014–2016)
Jesse Palmer (2017–Present)
Judges
Nancy Fuller
Duff Goldman
Lorraine Pascale

Carla Hall (2020 season)
Broadcast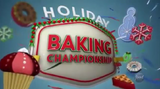 Food Network: 11/9/2014 – Present
Packager
Triage Entertainment
Holiday Baking Championship is a reality "holiday-themed" cooking competition show where eight bakers compete in a series of "holiday-themed" challenges for the chance to win a $50,000 grand prize.
Premise
[
]
The search to find the greatest holiday baker begins as eight amateur bakers enter the kitchen, where they show-off their family traditions and superb baking skills. To survive the challenges from week to week, they must prove their abilities in front of our tough-love judges: Duff Goldman, Nancy Fuller and Lorraine Pascale as this baking championship is the sweetest way to celebrate this holiday season.
Each episode has two rounds. The first round is the "Preliminary Heat" where the bakers are told of their themes for the first time and get varying times (anywhere from 30 minutes up to 2 hours) to create a small pastry (usual cookies or small cake). The person who wins the first round gets an advantage going into the next round, and aren't told until after the second round theme is announced (and sometimes they're not told until the middle of cooking in the second round). The advantage varies by episode (ex: exclusive use of a certain mold or ingredient or first choice of a theme).
The second round is called the "Main Heat" and the contestants get a considerably longer time to bake than the "pre-heat" (in the final round of the final episode they're given several hours to make a large confection). This larger dessert must fit a new theme presented (usually in the same vein as the pre-heat theme). One baker is eliminated every episode except for the last one. In the finale it's down to the final three or four contestants and the winner is chosen from the "Main Heat" final round, effectively eliminating the remaining bakers in one episode. The winner gets $25,000.
In the main heat, the host will introduce a twist in the middle of the round that the bakers must use in their dishes. This usually amounts to being a certain extra ingredient that must be incorporated into the final products.
The 2020 season included a "Nice/Naughty List" to measure how the bakers rank week by week.
Rating
[
]

Trivia
[
]
Host Bobby Dean is the son of popular Food Network personality and chef Paula Deen.
Due to Covid-19 travel restrictions, Lorraine Pascale was replaced on the judging panel by Carla Hall in the 2020 season.
Other Versions
[
]
Kids Baking Championship – a kid-friendly spinoff that airs on Food Network since 2015.
Spring Baking Championship – a Spring-themed spinoff that also airs on Food Network since 2015.
Halloween Baking Championship – a spooky-themed spinoff that also airs of Food Network since 2015.
Link
[
]