Host
Robb Weller
Announcer
Charlie Tuna
Broadcast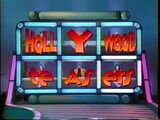 Unsold Pilot: 1993
Packagers
Merrill Heatter Productions
MCA Television
"These are the stars: Ed O'Neill, Pamela Anderson, Don Rickles, Mayim Bialk, Mark Curry, Rita Rudner. And they're all here to play… Hollywood Teasers, where a player can win up to $50,000 in cash and prizes. And now, here's our game keeper, Robb Weller!"
Hollywood Teasers was a game show pilot similar to Hollywood Squares & All Star Blitz.
Two contestants played a game similar to All Star Blitz except with altered rules and six stars (not four).
To start, the category of a "Teaser" was revealed. A "Teaser" is a word puzzle in the same manner as Blitz (Blitz never revealed the category of the puzzle, though it was verbally announced at times). On a player's turn, he/she pressed an actuator (similar to a hand-held buzzer on Jeopardy!) which caused the board to flash. When the flashing stopped, a star's square lit up. The star was then asked a question posed by host Weller. When the star gave his/her answer, the contestant decided whether to agree or disagree on the answer. After each question, a clue to the "Teaser" was revealed (unlike on Blitz where a clue had to be revealed by surrounding the box on correct agreements or disagreements). The clue was either a letter, a word or a portion of a word. At some point, a player could wish to solve the puzzle or continue playing. The first player to solve the puzzle won the game and $500.
The first player to solve three "Teasers" won the match, a total of $1,500 and then selected a celebrity who would then reveal what prize that contestant had won.
Ed O'Neill
Pamela Anderson
Don Rickles
Maylim Balik
Mark Curry
Rita Rudner

Merrill Heatter

YouTube Links
Edit
Community content is available under
CC-BY-SA
unless otherwise noted.