Host
Mike Holmes
Co-Hosts
Mike Holmes Jr. (Season 1/2015)
Tim Tebow (Season 2/2016)
Experts
John Gidding
Danisha Danielle Houston
Broadcast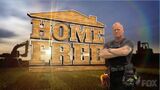 FOX: 7/22/2015-08/04/2016
Packagers
Relativity Television
Critical Content
Home Free is a reality competition series that will feature never-before-seen twists and plenty of surprises, as couples vie to win their dream home.
(Keep in mind that this should not be confused with the short-lived 1993 ABC sitcom starring Matthew Perry of Friends fame of the same name.)
Premise
[
]
On this series, nine deserving couples are challenged to revive a one run-down home every week. During each episode, Holmes will present the couples with tasks designed to test and challenge the skills of these do-it-yourself enthusiasts. Holmes will be with the competitors every step of the way - picking apart their work and demanding they meet his high standards, while also sharing his expertise and guidance to help them reach new heights. But in a surprise twists, when the work is done for the day, the couples don't have far to travel to get home...because not only must they work together to restore the home, they must all live together in the same dilapidated home 24/7. The more they accomplish, the better they sleep at night. Each week, the couple with the best work will move forward in the competition, while the couple who didn't perform up to code will face elimination. Eliminations will continue each week until only two couples remain who will fight to the finish to win their ultimate dream home.
Rating
[
]

Similar Shows
[
]
The Complex: Malibu - another house-themed reality competition series that has also aired on FOX in 2004
Dream House - a quiz show that aired on ABC from 1968 until 1970 and on NBC from 1983 until 1984
Link
[
]