Host
Kelly Ripa
Mentors
Ed Evangelista & Wendy Robbins
Broadcast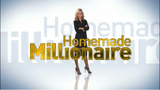 TLC: 11/19/2010-12/24/2010
Packagers
Discovery Studios
Miloio Productions
Homemade Millionaire was a short-lived reality competition series where it offers female entrepreneurs the potential opportunity of a lifetime - to have their innovative ideas sold on-air and online through interactive multichannel retailer HSN (Home Shopping Network).
Each week, three entrepreneurs and their products are tested. First, the contestants are introduced to either Ed Evangelista or Wendy Robbins, who will coach them through the process of refining their product and sales pitch for their final presentation for HSN.
The first stage consist of the contestant presenting their product in a three-minute pitch to a focus group of consumers, while Kelly Ripa and their coach watch a separate room and discuss concerns they have with the contestant's product or presentation. Each contestant is given feedback by the focus group and by the coaches, and one contestant is eliminated based on focus group scores.
In the second stage, spread over two days, the inventors' products and sales skills are evaluated in a two tasks challenge. The particular tasks depend on the product featured in each episode, and the inventors and given additional feedback and guidance from a guest advisor from the field (generally someone with experience selling products from that field on HSN). The first task may range from staging a photo shoot for promotional materials for their product, to developing further variations of their product to build a marketable product line, and is judged by the guest advisor. The second task involves having the products evaluated for sales potential, which may range from pitching the product to potential customers in stores, staging a fashion show, or having their products tested and rated by Good Housekeeping.
The third occurs two weeks later, after contestants have been given time to refine their product and pitches using their feedback received during the first two stages in order to increasing their chances of their product being added to the HSN lineup. The inventors present their product to Kelly Ripa, Jennifer Cotter (HSN Senior VP, Television, Chris Nicola (HSN VP, Merchandising and Product Development) and a guest judge with experience in the field the product is targeting. The executive board selects one product to be added to the HSN lineup based upon product uniqueness, how well they expect it to sell, how profitable it may be, and how well the product is pitched (as the inventor will be presenting the product on HSN to potential buyers).