Host
Wink Martindale
Announcer
Johnny Jacobs
Roy Rowan (sub)
Broadcast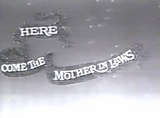 Pilots: 11/7/1966 (as Here Come the Mother-In-Laws), Spring? 1967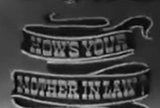 ABC Daytime: 12/4/1967 – 3/1/1968
Packagers
Chuck Barris Productions
How's Your Mother-In-Law? was a short-lived comedy variety game show, where three Mothers-in-Law compete on this show. Three celebrities pair up with the mother-in-laws. There is a jury who has to determine which mother-in-law would be the best to take them home.
Format
[
]
Three mothers-in-law were represented by comedians acting as "defense attorneys".
After each comedian presented his "case", a "jury" of five unmarried men and five unmarried women picked the mother-in-law they'd most like to have. That mother-in-law received $100. Each woman's son-in-law provided information (usually derogatory) to the comedians before the show.
NOTE: In the pilot, the winning mother-in-law returned to play the next game against two new mothers-in-law.
Trivia
[
]
How's Your Mother-In-Law? had the same premiere and cancellation dates as Temptation.
Press Photo
[
]
Studio
[
]
ABC Television Center, Los Angeles, CA
Music
[
]
Pilot – "Walk Right In"
Main – Unknown
Inventor
[
]
YouTube Videos
[
]
Clips of the 1967 pilot
Promo for the show
Opening to the show