Host
Howard Blumenthal (Runthrough)
Bill Cullen (Series)
Announcer
Tom Weebil
Broadcast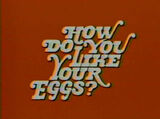 Runthrough: 1976
QUBE: 3/23-31/1977
Packager
Warner Cable Presentation
How Do You Like Your Eggs? was a series of unsold pilots for a proposed interactive game show.
Main Game
[
]
Two married couples competed on this show about people's opinions. The people making their opinions are the home viewers who cast their votes using their QUBE consoles. The teams took turns predicting what the most popular answer to a question would be. Each question has five possible answers (later four). Each member of the controlling team chose separately, and if either one of them chose the right answer, they scored a point; but if they both chose the right answer, they scored two points. Upon scoring two points, they had a chance to steal one point from their opponents by guessing the least popular answer; but if they can't, the point was stolen from them to their opponents; later there was no risk in losing a point. The first couple to score five points won the game and their own Pong video game. The losers received dinner for two at Jai Lai.
Perfector Round
[
]
In the bonus round called "Perfector", host Cullen read one more question with five more answers. The idea here for the winning couple is to put the answers in order from the most popular to the least popular. Each correct placement is worth $10 (later $50), and putting all five answers in order won a new color TV.
Music
[
]
Ken Bichel for Score Productions
This music was originally unused music from the 1970s versions of Match Game.
Links
[
]
How Do You Like Your Eggs? at Game Show Utopia
Game Show Pilot Light info page

YouTube Videos
[
]
Clips of the unaired runthrough, hosted by Howard Blumenthal
Pilot #1 (in full)
Pilot #3 (in full)
Pilot #4
All Four Episodes