Host
George Gray
Broadcast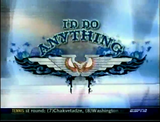 ESPN: 9/28/2004 - 11/16/2004
Packagers
BBC International Television/Transworld
I'd Do Anything was a reality competition sports show where it pits three contestants competing head-to-head in four sports-related challenges in the categories of pain, shame and insane where your sports stunt becomes their sports fantasy.
Premise
[
]
People face their worst fears in order to win a once-in-a-lifetime experience for a loved one. The first three events are to qualify for the final. If you win an event you qualify for the finals. If two players win events, the other player goes home. If one player wins all three qualifying events, they choose their opposition for the final. The events are sports related with a twist. Whoever wins the final gets their sports dream for their friend fulfilled.
British Version
[
]
The original British version hosted by Ian Wright aired on BBC One from 2003 until 2004.
Inventor
[
]
Loosely based on the United Kingdom series of the same name.
Links
[
]
Article about the original British version (courtesty of ukgameshows.com)
Official Website (via Internet Archive)